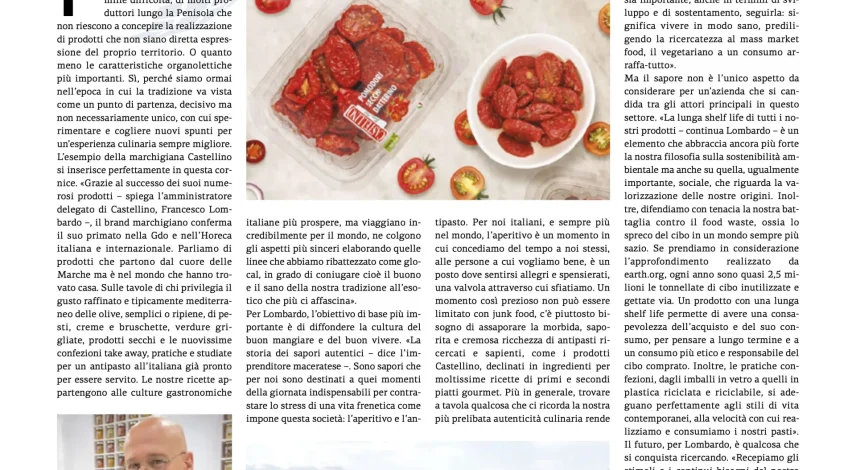 Italian Culinary Excellence in a Global Perspective
Francesco Lombardo elucidates the global success of Italian gastronomic products targeting the Retail sector, drawing upon his direct industry experience. He further elaborates on the evolving landscape.
Presenting Italy on a global culinary stage is a source of immense pride, despite the myriad challenges faced by numerous producers across the Italian Peninsula. For these producers, creating products that genuinely represent their region and its unique flavors is paramount. Indeed, tradition is now viewed as a starting point, albeit a crucial one, to experiment and uncover fresh inspirations for an even more refined culinary journey.
The story of Castellino, hailing from the Marche region, seamlessly aligns with this ethos. "Thanks to the resounding success of its diverse product range," explains Francesco Lombardo, CEO of Castellino, "this Marche-based brand reaffirms its position as a leader in the Italian and international Retail and Horeca sectors. We are talking about products rooted in the heart of the Marche region but embraced by the world. They grace the tables of discerning individuals who savor the refined, typically Mediterranean flavors of olives, be they plain or stuffed, as well as pestos, creams, bruschettas, grilled vegetables, dried products, and the latest take-away packaging, designed for a ready-made Italian-style appetizer. Our recipes originate from some of Italy's most prosperous gastronomic traditions, yet they transcend borders, capturing the most authentic aspects while blending seamlessly into what we refer to as 'glocal' lines—those capable of harmonizing the goodness and health of our tradition with the exotic flavors that hold the greatest allure."
For Lombardo, the foremost objective is to propagate the culture of mindful eating and living well. "Authentic flavors tell a story," asserts the entrepreneur from Macerata. "They speak to those essential moments of the day when we must counterbalance the stresses of our fast-paced lives. Take the aperitif and the appetizer, for instance. For Italians, and increasingly for the world, the aperitif is a cherished time to savor, to share with loved ones. It's a place where happiness and carefree moments unfold, serving as an outlet to release stress.
Such a precious moment should not be marred by junk food; instead, it should be enriched by the soft, flavorful, and creamy richness of carefully crafted and skillfully prepared appetizers, such as those offered by Castellino. These can be incorporated into a wide array of gourmet first and second course recipes. More broadly, encountering flavors at the dining table that evoke our most cherished culinary traditions makes shared moments even more magical. The Mediterranean diet undoubtedly stands as our forte. We understand its significance, not just in terms of health, but also for development and sustainability. It entails choosing refinement over mass-market food and vegetarianism over indiscriminate consumption."
However, taste is not the sole consideration for a company aspiring to play a leading role in this sector. "The extended shelf life of all our products," Lombardo continues, "aligns perfectly with our philosophy of environmental sustainability, as well as our commitment to social sustainability, which encompasses the valorization of our origins. Additionally, we steadfastly combat food wastage—a pressing issue in a world marked by excess. An extended shelf life product promotes conscious purchasing and consumption, encouraging a long-term, ethical, and responsible approach to food consumption."
Furthermore, our practical packaging, encompassing both glass and recycled, recyclable plastic, seamlessly accommodates contemporary lifestyles characterized by the swift preparation and consumption of meals. In Lombardo's view, the future is shaped by ongoing exploration. "We remain attuned to stimuli and the evolving needs of our consumers, which is why we continually invest in training, knowledge, and comprehensive expertise.
Investing in knowledge yields returns in terms of quality and dedication to work. In anticipation of our presence at the upcoming TuttoFood event in Milan from May 8 to 11, 2023, we will unveil an entirely innovative communication strategy. In the near future, we will use social media channels to convey original content, stories told directly by individuals, partners, and our team, shining the spotlight on Castellino products as if they were unique, hospitable planets teeming with rare knowledge and boundless flavors."
■ Renato Ferretti
Testata Giornalistica Gusto – Edizione Fiere Maggio 2023 – Sole24 ore